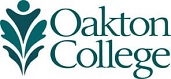 Oakton Art Students Paint 'Pop-Up Pianos' in Rosemont
(July 2, 2019) A quartet of Oakton Community College art students, Courtney Camp (Skokie), Alexee McNulty (Skokie), Pesach Bercovice (Chicago) and Vianey Mojica-Parra (Northbrook), will have their art work – custom-painted pianos – on display throughout the Village of Rosemont until September 30.
The Oakton students, along with a foursome of Triton College students, are participating in "Pop-Up Pianos," a program sponsored by the Rosemont Mural Initiative, under the tutelage of award-winning artist Rahmaan Statik. "Pop-Up Pianos" is part of a project to beautify the village through a public art initiative to provide mentorship to aspiring student artists. The artists applied their creative vision using acrylic, spray paint and a coating of varnish.
The eight painted pianos, provided by Heavenly Pianos in Arlington Heights, are sprinkled throughout popular spots in Rosemont allowing residents and visitors the opportunity to foster their love of music by interacting and engaging with the pianos.
Oakton Chair of Art and Design Lou Pierozzi commended the Oakton students for their involvement in the unique project: "This once-in-a-lifetime opportunity allows them to work directly with an internationally recognized artist noted for his urban art and public murals. Oakton students will have their art work exposed in public places where thousands can view their unique work."
Statik grew up in Chicago and received his training from the American Academy of Art. He is a co-founder of RK Design, a graphic arts and mural company, and had produced over 400 murals, CD covers, book illustrations and logo designs. In addition, Statik instructs children and young adults in mural painting techniques and works out of a studio in the Bridgeport Art Center in Chicago.
Rahmann Barnes, creative director for "Pop-up Pianos, says the Oakton art students working with Statik are providing a vital service: "This project helps to provide an appreciation of art and creates public cultural gathering spaces."