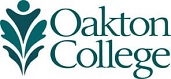 Learning Center
The Learning Center provides tailored academic support services that foster success for all learners in a welcoming, professional environment that emphasizes achievement amongst a diverse community. The Learning Center has supplemented tutoring with professional-level support and offers a variety of educational support services, including tutoring, study strategies and techniques, and co-curricular programs that enhance classroom learning.
Spring Tutoring
January 28, 2019 - May 17, 2019
Des Plaines Campus
Skokie Campus
Spring 2019 #StudyBreakfast
The Learning Center will be hosting Oakton's thirteenth biannual #StudyBreakfast on Wednesday, April 24, from 12:30 p.m. - 4 p.m. on the Skokie campus and 5 p.m. - 8:30 p.m. at the Des Plaines campus. The Fall 2018 #StudyBreakfast had 146 students participating at the Skokie campus and 250 students joining us at the Des Plaines campus for a combined number of 396 students coming together college-wide! From that total, 80 students participated in studying diligently with a faculty member and their peers in the many review sessions that were offered throughout the day. This grand happening was made possible by the enthusiastic participation of our student, staff, and faculty volunteers. If you you would like to know more about #StudyBreakfast and the different activities happening that day please reach out to your Academic Advisor for more information.