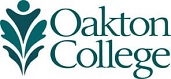 Registration for Fall Classes at Oakton Begins May 6
(April 14, 2020) Get a great education without leaving home. Whether you're starting college or gaining credentials for a high-demand career, there's a place for you at Oakton Community College. You can discover your Oakton Experience by registering for fall credit classes starting Wednesday, May 6.
Choose from over 130 degree and career-track programs and prepare to transfer to a four-year college or begin a new career. For example, Oakton is meeting employer demand by introducing new offerings this fall including the following programs: Production Technician Certificate; Welding Technician; Programmable Controllers (PLC/PAC) Technician Certificate; and Cannabis Transportation, Logistics and Supply Chain Management Certificate.
The Production Technician Certificate (nine semester credit hours) offers credentials for entry-level manufacturing production workers. The Welding Certificate (10 semester credit hours) follows the standards of American Welding Society (AWS) and covers training systems including electric arc, oxy-fuel, gas metal arc and gas tungsten arc welding processes with an emphasis on operational safety requirements. The PLC/PAC Technician Certificate (15 semester credit hours) trains students for this challenging yet highly rewarding opportunity in the modern automation/mechatronics field. The Cannabis Transportation, Logistics and Supply Chain Management Certificate (14 semester credit hours) prepares transporters to apply state laws and regulations to securely transport and track cannabis between business licenses.
Whether you choose the transfer path or a career path, Oakton can help you build the skills and confidence to reach your goals. Fall classes start Monday, Aug. 24.
New students can apply at www.oakton.edu/admission, or contact the Office of Admission at admission@oakton.edu or 847-635-1835 for more information. Continuing students can register at myOakton.edu or contact the Enrollment Center at enrollmentcenter@oakton.edu or 847-635-1700 for more details.