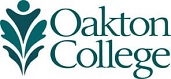 Cecelia Landrum of Evanston is the Recipient of Phi Theta Kappa's Distinguished Chapter Member Award
Des Plaines, Ill. (April 30, 2021) – The Oakton Community College Alpha Iota Phi chapter of Phi Theta Kappa (PTK), an international honor society for two-year colleges, proved strength and resiliency pay off even during a pandemic. At PTK's Catalyst 2021 annual convention held virtually April 8-10, Cecelia Landrum of Evanston was honored with the Distinguished Chapter Member Award, which recognizes a student who embodies leadership, fellowship, service and academic excellence.
"I was astonished about the award," says Landrum, who boasts a 3.56 GPA. "Our chapter was having a watch party and when I saw my name on the screen, I was wondering why. I was delighted to be congratulated by the chapter's officers. The honor means a great deal to me because it's a peer-nominated award and demonstrates that hard work, focus and dedication pay off."
Oakton's chapter was one of approximately 50 PTK chapters worldwide to receive the Distinguished College Project Award this year. PTK's College Project initiative aims to help chapters establish or strengthen a supportive relationship between the chapter and college administration. Oakton's project, "Instructional Videos to Demystify Financial Aid and Scholarship Process," compiled financial aid information offered by faculty, staff, students and alumni and shared it online.
Successful completion of the college project is one of the criteria needed to be a Five-Star Chapter, a status Oakton maintained for the 2020-2021 academic year. In addition, PTK recognized Oakton as a Distinguished Chapter and a Top 100 Chapter out of over 1,200 chapters internationally.
"I am incredibly proud of the hard work of our chapter and its officers," says Simi Khurana, Student Life coordinator and PTK chapter advisor. "Despite COVID, we spent hours working remotely on the projects. I am glad we were recognized for all our hard work. I hope we made a difference through our projects in the community and for the student body."
PTK is the premier honor society recognizing the academic achievement of community college students to grow as scholars and leaders and consists of more than 3.2 million members and nearly 1,300 chapters in nine nations.